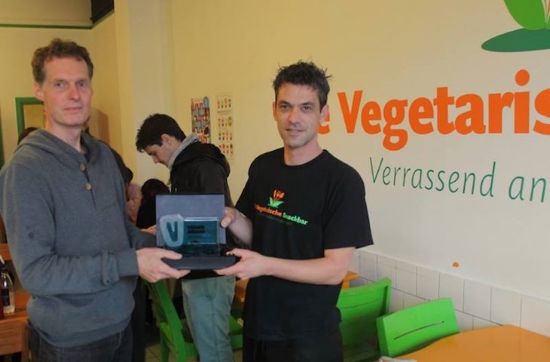 Stemmen Vegan Awards is weer begonnen
24 september 2014 – Ook dit jaar organiseert de Nederlandse Vereniging voor Veganisme weer de Vegan Awards. Nieuw is de categorie 'Vegan Friendly City', waarbij men kan stemmen voor de meest vegan friendly stad in Nederland. In totaal zijn er maar liefst zeven categorieën. De 'vegan lifestyle' raakt steeds meer ingeburgerd dankzij het groeiend aantal nieuwe initiatieven en de toenemende aandacht voor veganisme.
De genomineerden per categorie:
Beste vegan friendly restaurant:
De jongens op 't zand
DopHert
Leaf Vegetarian
De Vegetarische Snackbar
Veggies on Fire
Gare du Nord
Spirit
Beste vegan friendly merk:
Wilmersburger
Alpro soya
Lush
Goody Good Stuff
De Vegetarische Slager
Beste vegan friendly (web)winkel:
Vegabond
Veggie4U
VEGA-LIFE
Vegan Mission
Veggiedeli
Beste vegan kook- of lifestyleboek:
De Vegarevolutie – Lisa Steltenpool
Plant Power – Lisette Kreischer
De Vrolijke Veganist – Floris van den Berg
Plantaardig IJsplezier – Stijn de Kock (e-book)
De Groene Meisjes – Ontbijtreceptbook (e-book)
Beste vegan blog:
Plantaardigheidjes
Vegetus
Veganista.eu
Watmaakt.suzette.nu
De Planteneter
Beste vegan friendly cateraar:
Happy Herbi
Just Like Your Mom
Dutch Weed Burger
Planty Food
DopHert Catering
Beste vegan friendly city:
Den Haag
Rotterdam
Amsterdam
Nieuwkomer is de categorie 'Beste vegan friendly city, waarbij men stemt welke stad het beste aanbod heeft voor veganisten of mensen die plantaardig willen consumeren. De award voor 'Vegan Friendly City' zal aangeboden worden aan de stad die wint en is een aanmoedigingsprijs voor de stad zelf en voor anderen steden om duurzame en plantaardige initiatieven in hun stad verder te stimuleren.
Stemmen op de Vegan Awards kan tot en met 27 oktober via www.veganawards.nl. De Vegan Awards zullen uitgereikt worden op 1 november: Wereld Veganisme Dag.